SAFE MAN WALKING – the high innovation at the service of "pedestrians"

Safe Man Walking (SMW) is an innovative and smart signaling system for pedestrian/cyclist crossings on roads situated in dimly lit and busy areas. SMW has the goal to secure crosswalks/passing lanes and consequently to reduce road accidents.
The project was carried out by a partnership of Apulian companies participant at Living Labs SmartPuglia 2020, a public call promoted and co-financed by the Region of Apulia under the Regional Operational Programme 2007-2013 FESR – Convergence objective – Axis I – Line of Intervention 1.4 – Action 1.4.2 – "Investing in your future"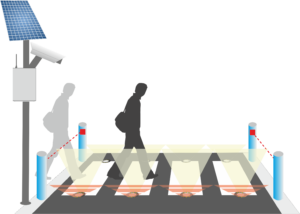 SMW provides a special crosswalk signal system composed of a series of bright lights oriented towards the pedestrian or cyclist (to illuminate crosswalks during the transit on those) and yellow lights oriented to the outside of the crosswalks (to alert the driver to reduce the speed and to stop, giving priority to the pedestrian/cyclist). The system can also be implemented with beeps that are activated during the transit on crosswalks and that are very useful for blind or visually impaired pedestrians. The various elements of SMW system are activated by a control system that processes data coming from sensors. These sensors detect the presence of pedestrians/cyclists willing to cross. In order to being an aid for the crosswalks safety, SMW is also a system for studying the flow of vehicles and pedestrians: it detects the number of pedestrians, bicycles and vehicles in transit, as well as the maximum and average speed of those, in a specific time gap and near the crossing on which SMW is installed. This data are stored in an electronic format and they can be sent to a remote location.
SMW has been realized by 5 innovative Apulian companies investing in R&D for a long time, designing and building high-tech systems: Ingel Srl, Energenia Srl, Bautech Ltd., Italian Cutting System Srl, LPT Measure Srl.
SMW has taken advantage of the collaboration with Research Laboratories: "Consorzio CETMA" and "Dyrecta Lab" and with the towns of Conversano, Locorotondo, Polignano a Mare and Monopoli for testing SMW system directly on final users who transit in their areas of competence.